Carl Cestari – Combat Jujutsu DVD 2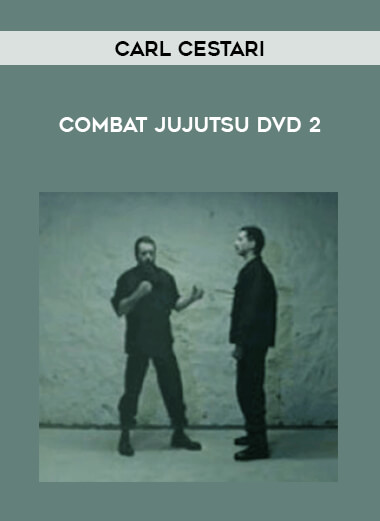 Carl Cestari – Combat Jujutsu DVD 2
Course Detail
Salepage: Carl Cestari – Combat Jujutsu DVD 2
This is a very rare DVD series on World War II Combatives, taught by the late Carl Cestari.
The Combat Jujutsu series was originally available from the Close-Combat-Video.
com website which has now changed hands and content significantly.for information about Carl Cestari and his credentials.
He has been featured in Black Belt Mag several times, read more here:
DVD2 – How to Gain Advantage on the Ground"This video focuses on the mount position.
Carl gets into more detail than that on Old School 3-Ground Fighting.
Consider this the advanced ground fighting series.
Carl discusses the finer points of ending a fight once you have your target on the ground.
He goes into greater detail about strangles, striking methods, pressure points, gouges, and joint dislocations.
Carl demonstrates how to use these techniques to systematically take the target apart bit by bit to end the fight.
If you want to know how to systematically take your enemy apart and escape from ANY hold down, then this is the video you're looking for.
Leave nothing to chance and save the submissions for the ring!"Thanks to cheaman!Quote:Gents, not really sure of the videos you are talking about but, Carl's hands were exactly the equivelant of any lead pipe or piece of steel! Beleive me I know! he tried to take it easy on us cause just a touch from him could inflict serious injury.
His techniques were all based on solid training and experience.
few people on the planet have gone through th ordeals he has.
he has survived thousands of fights with people who were set to kill him on a daily basis.
As far as his finger, might be a funny story, you decide.
He hit a guy once and the tooth caused an infection in his finger that killed the nerve endings, it was basically a 'dead" finger.
he had it cut off cause it was getting in the way of his training! The doctor wanted to put him under anesthesia , he said NO! So the Dr.
gave him a local and he watched the guy cut off his finger with what looked like a baby saws all.
he wanted to wear it as a necklace ( sick) but they needed to keep it for some insurance purposes — 1ofthepack bullshido.
netQuote:Carl Cestari was best known for his research, training and teaching of various methods of WWII Close-Quarters Combat; however Carl had an extensive background in both Japanese and Okinawan Martial-Arts.
From the early age of 7, he started training in Kodokan Judo, under world renowned Judo Instructor Yoshisada Yonezuka and later in Tani-Ha Shito Ryu Karate under Shigeru Kimura at the Judo-Karate Center in Cranford, New Jersey.
Carl was a Martial Artists through and through, his love for the martial arts and its early history is something he researched throughout his entire life.
In the mid 1970's, it's my understanding that Carl served in the United States Army Reserves.
In or around 1977-78 Carl began a career in Law Enforcement and became a Police Officer in which he served on a local Police Department, then transferred to a Federal Agency and then back to his original department.
It was around this time that Carl started researching various Military Close-Quarter Combat systems that where developed for troops during the Second World War.
Carl sought out old Close-Combat Instructors to either train with, interview or correspond with over the years.
These Instructor's came from such units as the U.
S.Army Special Forces, U.S.Army Rangers, Paratroopers, Marine Raiders & Scouts, (ONI) Office of Naval Intelligence, (CIC) Counter Intelligence Corps), (MID) Military Intelligence Division and the First Special Service Force, also know as the "Devil's Brigade" or "Black Devil's".
Carl's research of the Martial-Arts & various Self-Defense systems started at the early age of 7 when he started collecting martial arts magazines, books, and mail order lessons.
Over a 40 year period, Carl had collected several thousand books, hundreds of magazine's, hundreds of video's and DVD's.
His collection was one most extensive and impressive libraries in the WORLD.
Another collector Carl and I knew, was in awe when he walked into Carl's library.There where books ranging from
More From : Fighting