Carmine Zocchi-Nogi Grappling for MMA Vol 1-3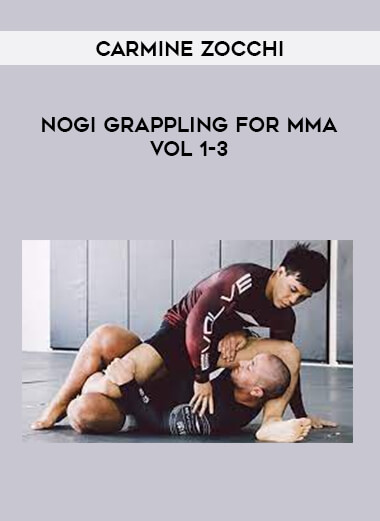 Carmine Zocchi-Nogi Grappling for MMA Vol 1-3
Course Detail
Salepage: Carmine Zocchi-Nogi Grappling for MMA Vol 1-3
Carmine Zocchi-Nogi Grappling for MMA Vol 1-3 Carmine Zocchi Brazilian Jiu Jitsu
Volume One Brazilian Jiu Jitsu Black Belt Carmine Zocchi presents his no gi grappling for Mixed Martial Arts (MMA) series.
Carmine has an extensive competition background including both submission grappling and MMA bouts.
He is also currently the Jiu Jitsu coach to both the Rhino and NY San Da teams.
Learn Carmine's unique approch to Jiu Jitsu that has produced champions.
Learn Carmine's unique positional approach.
Volume one is on the Rear Mount and knee ride.
This dvd covers how to set up the positions, how to hold them, striking options and submissions.
Neck locks, chokes, arm locks, rolls, reversals and escapes are all covered in this packed DVD title.
As an extra bonus, Carmine shows some of his favorite half guard passes.
Carmine Zocchi Brazilian Jiu Jitsu Volume 2 In the second volume of Carmine Zocchi's no gi Brazilian Jiu Jitsu series, the side across position is addressed.
Perhaps the most important position in a mixed martial arts (MMA) match, Carmine shows how to hold the position from the top, how to escape from the bottom, numerous submissions, opportunities for striking and transitions to the mount position.
Carmine Zocchi is a black belt under Marcelo Mello and has experience in Jiu jitsu, submission grappling and MMA matches.
More importantly, Carmine is also known as the coach of many successful competitors and shares with you the same approach to no gi grappling that he has shared with both the Rhino MMA team and New York San Da team.
Carmine Zocchi: Nogi Grappling for MMA Volume 3 In this third volume of his no gi grappling for Mixed Martial Arts DVD series, Carmine focues on bottom positions.
He begins with the butterfly guard, then moves on to passing the butterfly, and half guard techniques.
Author :
<find author>
More From : Fighting