Chen Zheng Lei – Old Frame 2nd Cannon Fist (Lao Jia Er Lu)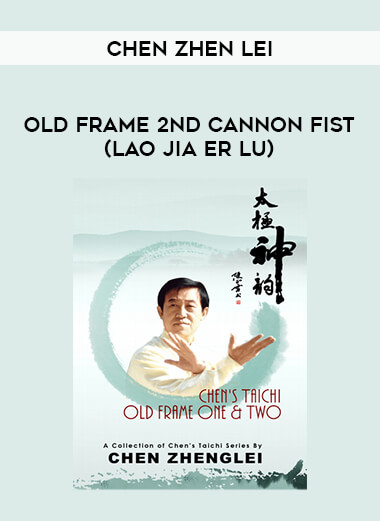 Chen Zheng Lei – Old Frame 2nd Cannon Fist (Lao Jia Er Lu)
Course Detail
Salepage: Chen Zheng Lei – Old Frame 2nd Cannon Fist (Lao Jia Er Lu)
Chen style Tai Chi Old frame Routine II (Cannon Fist Or Lao Jia Er Lu)This is cannon first by Chen Zen Lei.
I like Chen Zheng Instruction regarding the Form.
I'd uploaded first form by Chen Zen lei quite a while ago…So I am completing this set.
There is slight delay in audio but with English Subtitles it doesn't matter.
Running Time 1 Hour 21 Minutes.
More Info About Er Lu Cannon FistWhile the well known Yang and Wu family styles of Taijiquan derive from Chen Taiji's first routine, Lao Jia Yi Lu (Old frame First Set), Chen style taiji has retained an additional form designed to train explosive power (fa jing).
Cannon Fist (Pao Chui), AKA Lao Jia Er Lu (Old frame Second Set), is a vigorous empty hand routine, punctuated throughout with fa jing, the relaxed, explosive release of energy characteristic of Chen taijiquan.
Comprised of 43 techniques, Cannon Fist trains the Chen taiji martial artist to issue devastating force and technique in a relaxed and coordinated manner.
Although both Yi Lu and Er Lu use a rounded movement style based upon chan ssu jing (silk reeling) principles, Er Lu movements tend to be straighter.
Circles tend to be smaller and are exectued faster.
The movements and applications tend to be more direct and simpler in Er Lu compared to Yi Lu.
With an emphasis on speed and power, delivered with the style's unique requirements, Cannon Fist is a rare example of the explosive power of Chen style Taijiquan.
About Chen Zheng LeiChen ZhengLei, one of China's most famous Martial Arts masters and the 19th generation exponent of Chen style Tai Chi Chuan (Taijiquan).
He is considered by many to be a major representative of Chen style Tai Chi.
His tireless and inspirational teaching has done much to raise the profile of the style around the world.
Author :
<find author>
More From : Fighting