Daniel Moraes – Guard Distructiuon – Jiu Jitsu Vol.1,2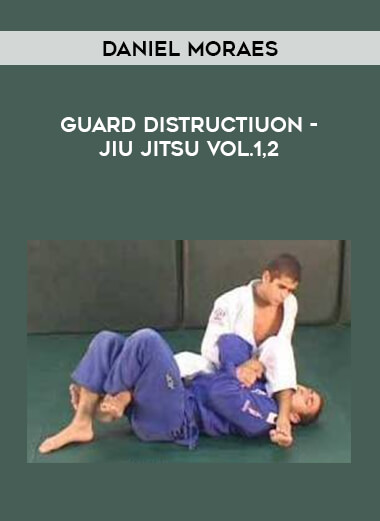 Daniel Moraes – Guard Distructiuon – Jiu Jitsu Vol.1,2
Course Detail
Salepage: Daniel Moraes – Guard Distructiuon – Jiu Jitsu Vol.1,2
With 2-Time World Jiu-Jitsu Champion, Daniel Moraes, this amazing new DVD series contains the hottest and most advanced escapes and defenses you will ever see! You will also learn the newest methods of defeating the top guard positions including the Spider, Butterfly, De La Riva, X-Guard and much more. There is even section on how to defeat the Arm Drag! This series covers it all and is another must have instructional set!
VOLUME 1 & VOLUME 2:
Defeating the Open Guard (Spider Guard, De la Riva Guard, Garcia X-Guard, Butterfly Guard) Part 1 & 2
On this incredible 2 part DVD, World Jiu-Jitsu Champion Daniel Moraes teaches how to defeat the most common and advanced open guard attacks that you will have to overcome in any match. This is Daniel's strongest part of his winning Jiu-Jitsu game, stopping and shutting down his opponent's attacks, especially the guard. There has never been a video produced like this where all of the top guards are detailed from the defensive side! You will learn how to stop and defend each of these guard attacks and all of the possible variations like arm bars, chokes, triangles and leg attacks and how to prevent the most common and advanced sweeps from each position. All of the top guards are dealt with including the amazing Garcia X-Guard! You will also learn the most advanced guard passes that can be done to each of these types of guards. As an added bonus, Daniel devotes a section to how to nutralize and defeat the powerful Arm Drag, a very dangerous technique to deal with! This is an amazing video from one of the world's best fighters!
Running Time Volume 1: 45 min.
Running Time Volume 2: 50 min.
VOLUME 3: Defeating the Closed Guard
On this DVD, World Champion Daniel Moraes will show you how to defend and destroy the very best closed guard attacks in the world. Here you will learn that before the legs can be opened and any pass can be attempted, you must learn to defend from every possible attack from any style of opponent. Learn some of the most advanced techniques on how to protect and defend from armbars, triangles, collar chokes, sweeps and more. These are not just some collection of basic or commonly known escapes. These are highly advanced techniques, many developed by Moraes himself. This DVD will also teach you how to recognize the danger zones of a submission and sweep and where and how to make your move and escape. This video finishes by Daniel teaching his very best competition closed guard passes. This is by far the most advanced work on this subject every placed on DVD or video!
Running Time Volume 3: 34 min
VOLUME 4:
Defeating the Half Guard
The half guard is without question, one of the most powerful positions in modern day Sport Jiu-Jitsu. World Champion Daniel Moraes is notorious for crushing half guard attacks and sweeps from even the world's very best opponents. Learn to protect yourself from all styles of sweep attempts and how to pass even the tightest half guard games you may come across. You will also learn how to submit the toughest opponents when inside the half guard. This DVD is loaded with many, many variations of half guard passes and submission defenses. Without question, one of the very best half guard videos ever made.
Running Time Volume 4: 36 min
VOLUME 5 & VOLUME 6:
Escapes from the Bottom Part 1 & 2
This is the must have DVD set you have been waiting for! Daniel Moraes has won 3 Jiu-Jitsu World Championships by being the most deceptive and innovative fighter on the mat today. In this amazing DVD, Daniel shows it all with the slickest defenses and escapes from side control, mount position, knee on stomach, head and arm, back position, north and south and more. These are advanced concepts that Daniel has used exclusively in his journey to becoming World Champ and are some of the most effective techniques you will ever use. This DVD will take you through the most common attacks from each position like armbars and chokes as you learn some of the most eclectic ways to prevent the submission and reverse the position.
This 2 volume set represents the most modern day approach to escapes that you will find.
Running Time Volume 5: 38 min
Running Time Volume 6: 48 min
More From : Fighting