Datu Dieter Knüttel – Modern Arnis – White Belt Program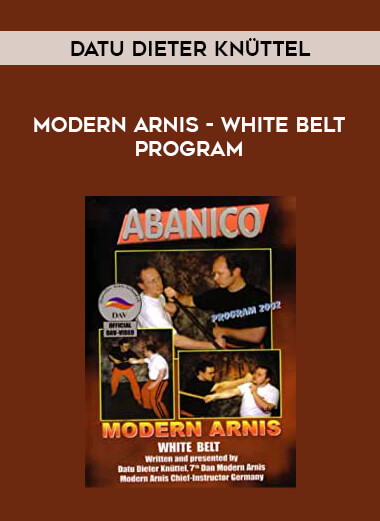 Datu Dieter Knüttel – Modern Arnis – White Belt Program
Course Detail
Salepage: Datu Dieter Knüttel – Modern Arnis – White Belt Program
Modern Arnis 1- The white belt programRuntime (Min.
): 57Producer: ABANICO/Datu Dieter KnüttelYou will see on this DVD: Basics for the more advanced techniques: basic footwork, sinawalis in motion, how to strike with the stick correctly and efficently, blocks and counters, the basics of Tapi-Tapi, Karanza, empty hand stike- and defense-techniques, easy Drills and quickreleases from different situations and much moreDatu Dieter Knüttel has an M.A.in sports science is Modern Arnis chief-instructor for Germany and European Modern Arnis Representative (1996 -2001) of Professor Remy A.Presas.
He received the title of DATU and the rank of 6th Dan Modern Arnis from Professor Remy Presas in 1996.
In March 2003 he received his 7th Dan and Seniior Master status in Modern Arnis in Manila/Philippines from the board of the worlds highest ranking Modern Arnis players: Cristion Vasquez, 9th Dan, Rene Tongson, 8th Dan, Rodel Dagooc, 8th Dan, Jerry de La Cruz, 8th Dan, Victor Sanchez, 8th Dan and Samuel Dulay, 7th Dan.
Dieter Knuettel is involved with the Filipino Martial Arts since 1978 and he has been teaching Modern Arnis seminars since 1983 all over Europe, in Australia, in the USA, in Russia and even in the Philippines.
He is one of the most experienced Modern Arnis Masters worldwide.
Short one is the intro/trailer and the larger is the actually instructional portion of the DVD.
Author :
<find author>
More From : Fighting