David-Dorian Ross – T'ai Chi Beginning Practice /w bonus A.M. Chi for Beginners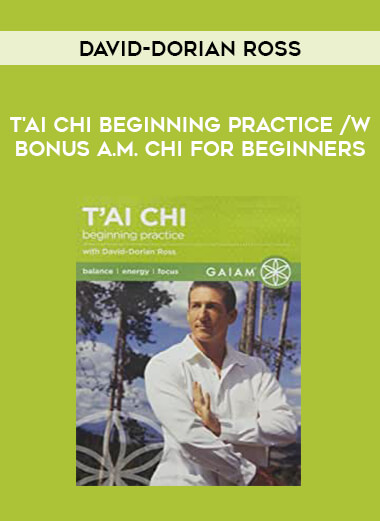 David-Dorian Ross – T'ai Chi Beginning Practice /w bonus A.M. Chi for Beginners
Course Detail
Salepage: David-Dorian Ross – T'ai Chi Beginning Practice /w bonus A.M. Chi for Beginners
One on one with Champion and Master David-Dorian Ross.
This is theway to learn t'ai chi.
With this program created to be more like personalinstruction, you'll learn more intuitively as you explore each move, soyou feel more confident right away.
You will understand how t'ai chi willhelp you move closer to that elusive life priority, balance.
Known as "the ultimate workout" in China, t'ai chi will give youthe benefits of weight training, aerobics, or sports conditioning whileexercising your mental-spiritual strength at the same time.
You'll seemore balance in the way you move, think and feel every day.U.S.
and world t'ai chi medalist David-Dorian Ross' clear, masterfulinstruction is captured live in this unique DVD.
The result is a morecandid, thoughtful explanation that's in tune with you as you move,with pointers that both sharpen your form and deepen the benefits.
David guides eight essential t'ai chi ch'uan poses, from Parting the Horse's Maneto the empowering Crane Spreads Wings.
A total-body workout that is morephysically charged than its sister practice qigong, this is like a martial arts "dance,"with breathing and mental imagery techniques that intensify the effects.
Includes 5 Insightful ways to learn T'ai Chi:Introduction & Preparation Get familiar with basic stance, form, and t'ai chibackgroundThe Solo Forms Learn and practice the moves as David demonstrates andexplains in thorough detail and helps you put the moves together.
Flowing Practice Demonstration David shows you the full practice at anatural pace to refine your fluidity and continuity.
BONUS AM Chi for Beginners Workout awakens and energizes your bodyand mind for the day ahead.
Total Content Time: 1 hour, 10 minutes* Created by David-Dorian Ross * Executive Producer: Michael Badertscher* Producers: Rebecca Stetson, Ted Landon * Director: Ted Landon* Editor: Doug Moldawsky©2004 Gaiam, Inc.
Author :
<find author>
More From :    Fighting