Emerson Combat Systems – Unconventional Edged Weapons Combat I-V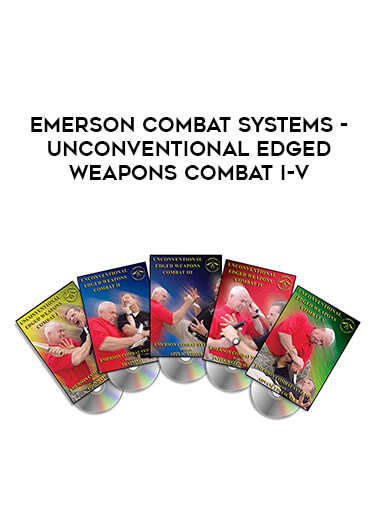 Emerson Combat Systems – Unconventional Edged Weapons Combat I-V
Course Detail
Salepage: Emerson Combat Systems – Unconventional Edged Weapons Combat I-V
Emerson UCEWC1-5 Unconventional Edged Weapons Combat, The Master Course 5 DVD Set. This instructional series is the educational equivalent of a master's degree in Edged Weapons Combat. This is a course. It is a series of instructional evolutions enabling you to super charge your fighting skills. Taught in a progressive layering system using the Accelerated Learning Protocol, this course takes you (regardless of your previous experience or expertise) to a new level of dynamic and unprecedented skill in Edged Weapons Combat. This material has never been available to anyone outside of personal instruction by Ernest Emerson who is regarded as one of the world's leading instructors to military and government agencies worldwide.
Unconventional Edged Weapons Combat I. Building a solid foundation is the fundamental core of developing the Ultimate Fighter. This volume contains the principles and drills needed to develop efficient movement, combat footwork, regaining your stance from the ground and development of the Universal Fighting Stance. Drills and techniques for accessing and deploying your knife are covered, as well as a Bonus Track – Warm up and Stretch.
Unconventional Edged Weapons Combat II. This volume, Training teaches you how to develop your skills to their ultimate potential. Covered here are the drills and exercises needed to supercharge your natural, instinctive abilities. The topics covered include mastering body mechanics, speed training and developing Ultimate Power. It also includes detailed sections on developing the proper mindset, the universal rules of combat and the anatomy of a knife attack ending with the Golden Rule of Surviving Combat.
Unconventional Edged Weapons Combat III. This is where you learn the tools of the trade. In this Evolution, Emerson introduces you to all aspect of using the knife as a weapon. Through a series of drills and exercises you will learn how to utilize the principles from foundations and training in actual applications of the knife. Taught here are the strikes, combinations and techniques including the dynamic art of knife boxing, needed to become a master in the use of a knife and how and when to use them to their maximum potential.
Unconventional Edged Weapons Combat IV. What is the Integrated Warrior Protocol? It is the ability to flow seamlessly between one weapons system and the next. Most arts teach knife techniques, empty hand and grappling as singular stand alone arts. What happens when you integrate all systems at once? This is the integrated warrior protocol. Learn to integrate your knife techniques into your fighting, your boxing, your takedowns and your throws. Learn a system never taught before to the general public and completely revolutionize your fighting ability forever.
Unconventional Edged Weapons Combat V. Advanced tactics is where you put everything together. This volume is the culmination of everything taught in Volumes I-IV. Here you will see everything from unarmed techniques against the knife attack, knife against knife, the devastating effectiveness of the "Tiger Gut" and "Buzz Saw" and introducing you to the revolutionary and efficient art of knife trapping.
Author :
<find author>
More From : Fighting