Erle Montaigue – Dim Mak – The touch of death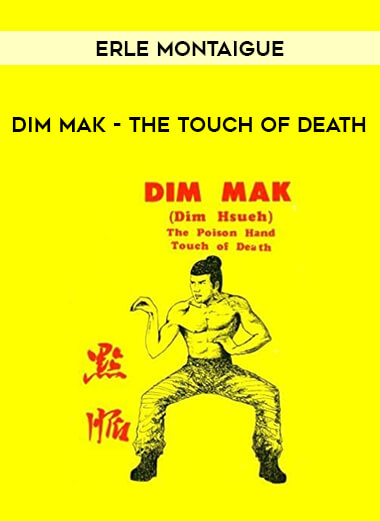 Erle Montaigue – Dim Mak – The touch of death
Course Detail
Salepage: Erle Montaigue – Dim Mak – The touch of death
ERLE MONTAIGUEBorn in 1949 in a small mining village about 50 miles south of Sydney in New South Wales Australia.
Born by Caesarean Section, his Mother actually watched in a large mirror over head as they cut her open to lift him out.
Erle's two siblings were still born due to the umbilical cord strangling them and Erle was also in this same situation, hence the Caesar at 6 weeks premature.
Weighing in at only 4 lbs, the doctors said that Erle Montaigue would be a backward boy in both brain and body.
(Many would still think that!) His Mother, Margaret Kathleen took Erle back to the hospital where he was born years later to show them that he was indeed not in that condition and was in fact thriving.
Erle's Father was also a self taught musician and could put his hand to just about anything and this rubbed off on Erle as he grew, trying many different musical instruments until his first guitar came in 1962.
An only child and "different" to the others in his mining village, he was always picked upon and had to find different ways home from school (which he just hated) every day to avoid being punched and beat up in general.
His only friends being girls and in particular his constant friend Eileen.
They were together from ages 3 until 13.
During his time at school, Erle met a music teacher who asked him to be in the school choir and this proved pivotal in Erle's music career as he discovered that he had a voice.
School was not good for Erle and by age 12 could hardly read, write or add up.
But soon realized that in order to get the girls, he would have to at least be seen to have a brain! So he embarked upon a self teaching regime whereby he learnt how to read, write and do complicated arithmetic in only one week and became head of the class to the teacher's amazement.
However, this didn't last as the call of the wild and girls was just too great and by age 15 was spending most of his school days truanting down at the local beaches.
Erle's first band was formed at school in 1964 and by 1967 he was expelled from school for deeds far above and beyond the call of school duty!! This also proved to be one of the best things to happen to him as a huge weight was lifted from his shoulders, leaving him free to pursue girls and music.
Erle was playing in his band "Earl's Court" in an open air concert when he noticed a pair of beautiful blue eyes looking up at him.
She was only just 15 and they were eventually married just after she turned 16.
Of course a marriage of those ages (18 & 16) was very difficult to maintain and so after two children it ended.
Erle is still great friends with Cheryl Ann who has been re-married for about 30 years now.
Erle took on a job as an apprentice Telephone Technician in 1967 and caused havoc in the teaching institution run by the then General Post Office.
We won't go into all of that but just to say that Erle has always been a bit of a rebel to put it mildly.
So his sojourn with the Telephone company lasted for only two years when he was chosen for a new rock musical, "Jesus Christ Revolution", followed by Godspell and Jesus Christ Superstar.
During this time, Erle also recorded his first hit song "Can't Wait For September" (1969) which became a big hit for him.
While at the Telephone institution, Erle met an old teacher called "Mr Wong Eog" who everyone mistakenly called Tokyo Joe.
Mr.Wong told Erle that he knew a martial art whereby one could become superman! So wanting to become superman (after being beaten up for most of his school days), Erle was right in there to learn from this gentleman.
The style which was unheard of in the West at that time, Erle discovered was Tai Chi.
Erle did many things in the music industry in Australia until 1974 when he travelled to London to further his music and acting career.
But God had an ulterior motive in that he really went there to meet his 2nd Tai Chi teacher, Chu King Hung who took him on as his first student.
And so the story goes! The rest is history when Erle travelled back to Australia upon the death of his father in 1978 and met the love of his life, Sandra, had three more children and also met Chiang Yiu-chun who became Erle's main internal arts teacher from whom he learnt REAL Tai Chi, Wudang Arts and Dim-Mak.
In 1981, Erle travelled to Hong Kong where he met and trained with both Yang Sau-chung (the son of Yang Cheng-fu) and also Ho Ho-choy, the great Bagua master.
Erle has had a number of other teachers in China and those from whom, although he cannot say that he was a long term student, has learnt heaps from, such as Fuzhongwen, Shao Shan-kan and some others whose names have now faded.
In November of 2003, Erle, his family, two dogs and business moved to the UK where they all still live in Wales.
His music has again surfaced and he now plays and records with his children in their family rock band, "MOONTAGU".
Moontagu, is what the Chinese people call Erle because they cannot pronounce his real name and means an "Old Tower" which Erle is happy with.
Between the years of 1979 and up until now, Erle had an explosion of creativity and production and has now produced the largest number of DVD titles on the internal fighting/healing arts as well as a wealth of books published world-wide.
He became the first Westerner to introduce Dim-Mak to the Western World with his books from the early 80's and also DVD productions.
Prior to Erle's productions, there were only a couple of small and insignificant half hearted books written and published in China on Dim-Mak as not many ever received the real transmission.
Even now, Erle's books on Dim-Mak are the ruler for all others and all other books on Dim-Mak have taken from Erle's work.
Many so-called masters say that they knew it all along, but sales records show that they have all bought Erle's work.
One extremely famous Chinese Master in the USA who wears the silk suite and Nike shoes recently bought Erle's MTG3 DVD on the Pauchui San-Sau form and then put out his own DVD title on that form.
However, Erle, being Erle, has changed some things in the original form so that they work much better and sure enough, this master has re-created these changes in his own DVD titles.
DIM MAKThe concept known as Dim Mak, (simplified Chinese: 点脉; traditional Chinese: 點脈; pinyin: diǎnmài; literally "press artery"; Jyutping: dim2 mak6), alternatively diǎnxuè (simplified Chinese: 点穴; traditional Chinese: 點穴) traces its history to Traditional Chinese Medicine Acupuncture.
Tales of its use are often found in the Wuxia genre of Chinese martial arts fiction.
Dim mak is depicted as a secret body of knowledge with techniques that attack pressure points and meridians, said to incapacitate or sometimes cause immediate or even delayed death to an opponent.
The concept known as Vibrating Palm, originates with the Chinese martial arts Nei Jing ("internal") energy techniques that deal with the Qi energy and the type of force (jin) used.
It is depicted as "a technique that is part psychic and part vibratory, this energy is then focused into a wave".
The concept of Dim Mak (Dian Xue) appears among the fictional martial arts styles in the novels of Jin Yong from the 1950s.
Although Dim Mak originates in Wuxia fiction, there have been a number of martial artists claiming to practice the technique in real life, beginning in the 1960s with US American eccentric Count Dante, who associated it with the English moniker "The Death Touch".
By the 1980s, Dim Mak was well known in US American pop culture.
The Black Belt magazine in 1985 carried the speculation that the death of Bruce Lee in 1973 may have been caused by "a delayed reaction to a Dim-Mak strike he received several weeks prior to his collapse".
As well other authors have said the death of Bruce Lee may have been due to a "Vibrating Palm technique".
[3] alongside an article about Cai li fo instructor Wong Doc-Fai to the effect that "dim mak does actually exist and is still taught to a few select kung fu practicioners.
"[4] A 1986 book on qi identifies dim mak as "one of the secret specialites" of wing chun.
[5] Dim Mak is referenced non-ironically in Bloodsport (1988), a film allegedly "based on true events in the life of Frank Dux", the founder of the first Neo-ninja school of "American style Ninjutsu".
In ca.1990, Taika Seiyu Oyata founded the style of Ryū-te which involves "pressure point fighting" (Kyūshojutsu).
In the 1990s, karate instructor George Dillman developed a style that involves kyūshojutsu, a term that he identifies with Dim-Mak.
Dillman eventually went as far as claiming to have developed qi-based attacks that work without physical contact ("no-touch knockout" techniques), a claim that did not stand up to third-party investigation and consequently denounced as fraudulent.
[6]Also during the 1990s, Tai chi chuan master Erle Montaigue (b.
1949) published a number of books and instruction videos on Dim Mak.
Montaigue claims to be "the first Westerner to be granted the degree of 'Master' in taijiquan and dim-mak".
According to Montaigue's own account, Dim-Mak is a style of Wudangquan which he learned in 1978 from a master called Chiang Yiu-chun.
[7]Paladin Press has other titles on the topic of Dim-Mak, including Kelly (2001) and Bauer and Walker (2002), both with a foreword by Montaigue.
Touch of Death" techniques appear in a number of kung fu films:In Bloodsport (1988), Jean-Claude Van Damme's character proves he belongs in the Kumite tournament by demonstrating the Dim Mak attack to the judges.
Though the demonstration was conducted on a stack of bricks instead of a human opponent, the film does refer to the move as a "Dim Mak" and "Death Touch".
In Crouching Tiger, Hidden Dragon (2000), Jade Fox uses a Dim Mak attack on Bo during a fight which paralyzed Bo and prevented him from moving and further attacking her.
The effects were quickly reversed when Li Mu Bai applied a similar Dim Mak move to counter it.
In Kill Bill (2004) the Bride learns the "Five Point Palm Exploding Heart Technique" from her teacher Pai Mei.
In the Shaw Brothers films Clan of the White Lotus and Executioners of Shaolin, the character Pai Mei/Bak Mei uses a Ten Point Exploding Heart Technique as well as a "100-step soul catching" Dim Mak which allowed the victim to take a certain number of steps before dying.
The concept has entered pop culture to the point where it has been referenced in diverse media, including the following:An episode of Batman: The Animated Series (1992–1995) titled "Day of the Samurai" was themed around the touch of death.
An episode of The Simpsons involves Bart lying about having learned the Touch of Death in karate class.
A third-season episode of Kung Fu: The Legend Continues centers on an assassin who uses this method to kill his victims, touching them with his middle finger which has a snake branded onto it.
In Thomas Pynchon's Novel Vineland, one of the protagonists uses the "Vibrating Palm Death Touch", which kills the opponent one year after it is usedThere is a record label called Dim Mak RecordsIn the series Quincy, M.E.(Season 3, 1977) an episode entitled Touch of Death was about a martial arts movie star that mysteriously died while making a new film.
Jack Klugman as Dr.Quincy discovers that he died because he had received the dim mak 10 days earlier.
In the Brentford Trilogy series of books by Robert Rankin many characters (e.g.Archroy) and the author himself (in one of his various Details about the Author sections) states that they are masters of Dim Mak.
In The Men Who Stare at Goats, Larry Hooper purportedly uses the Dim Mak on Lyn Cassady, before he leaves the New Earth Army.
Lyn Cassady has a terminal case of cancer, and he blames Hooper's touch of death on it.
Jon Ronson goes to meet Guy Savelli and oversees snapshots of a soldier karate chopping a goat to death with the "Quivering Palm.
"DEATH TOUCHThe Touch of Death or Death Touch refers to any martial arts technique that can, supposedly according to oral tradition, kill using seemingly less than lethal force targeted at specific areas of the body or pressure points.
Author :
<find author>
More From : Fighting