INSANITY 60-Day Total-Body Conditioning Program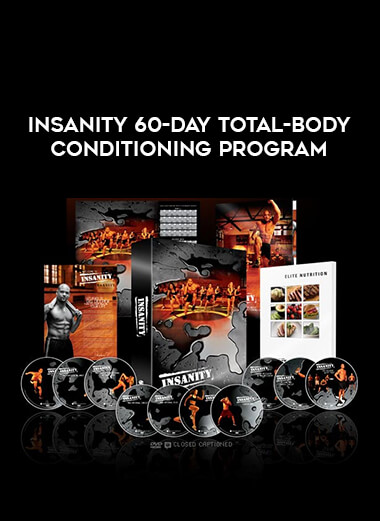 INSANITY 60-Day Total-Body Conditioning Program
Course Detail
Salepage: INSANITY 60-Day Total-Body Conditioning Program
THE INSANITY HOME WORKOUT INCLUDES:
Are You Ready For Insanity?
The Insanity home workout program ships with everything you'll                     need to transform your body (and your life) in 60 days!
The question is… are you ready?
10 Home Workout DVD's
Complete Nutrition Guide
Exclusive Fitness Guide
Insanity Specific Calendar
Fitness Test Tracker
Online Support
Fast and Furious DVD (exclusive bonus)
10 Home Workout DVD's Containing 10 Insane Workouts
Ready for the challenge? Ready to loose fat while at the same time building strength, power and resistance by using plyometric drills and                 interval training.
DVD 1: Fitness Test                     In this first DVD, Shaun pumps up the volume right off the bat to see where your fitness                     level is at. (30 minutes)
DVD 2: Plyometric Cardio Circuit Training                     Using fat burning plyometrics and intense cardio intervals, this DVD starts a lower body and                     sweat-inducing workout. (42 minutes)
DVD 3: Cardio Power and Resistance                     This DVD focuses on building lean muscle and upper body definition through strength training                     and insane movements. (40 minutes)
DVD 4: Recovery                     This DVD is a blessing, as Shaun slows down the pace to let your body recover once a week and                     get ready for the next workout. (33 minutes)
DVD 5: All Cardio and Cardio Abs                     This DVD is all about cardio, no intervals, just insane nonstop cardio. (55 minutes)
DVD 6: Core Cardio and Balance Training                     This DVD is the transition from your first 30 days to the next 30 days. (37 minutes)
DVD 7: Maximum Interval Circuit Training and Fitness Test                     This DVD takes interval circuit training to a new level and is more intense than any workout                     to this point in the program!
DVD 8: Maximum Interval Plyo                     This DVD takes interval pylo training to a new level as you go all out! (55 minutes)
DVD 9: Maximum Cardio Conditioning and Cardio Abs                     This DVD is all out cardio and cardio abs, pushing you to your limits! (65 minutes)
DVD 10: Maximum Recovery                     After 30 days on the "maximum" track, this DVD is all about recovery and building strength by using                     intense moves and stretches. (47 minutes)
More From : Fighting