Mike Fowler-NoGi Made Easy Disc's 1-4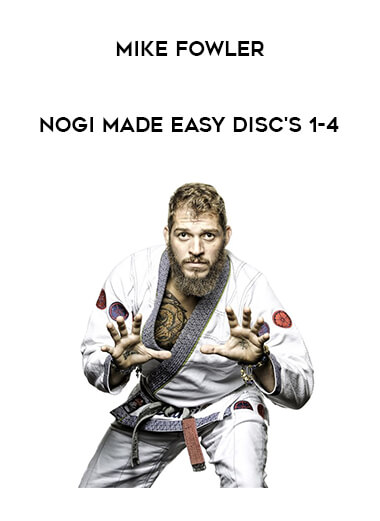 Mike Fowler-NoGi Made Easy Disc's 1-4
Course Detail
Salepage: Mike Fowler-NoGi Made Easy Disc's 1-4
Mike.Fowler-NoGi.Made.Easy.Disc.1.DVDRip.XviD-UPiNSMOKEEscapes from the Brabo/Darce choke.
Escapes from head and arm choke (guard).
Heel hook escapes
Toe-heel foot lock escapes
Avoiding the guillotine during takedowns
Escape from noth-south
Escape from the figure 4 back-control
Escape from knee on belly
Escape for a double-cross armbar, 2 arm arm-bar
2 head-lock escapes: both from kesa gatame (judo side control)
Counters/passes to X-guard
Escape from the lockdown: this counter is an escape and a submission this was
almost worth the money to me just for this technique.
Closed guard pass
2 Good Take-downs for competition, from the clinch, No-Gi Harai-Goshi and a
spinning take-down.
Guard Sweeps: Basic Butterfly sweep
Sneaky head arm choke from cross sides
Technical details of the omoplata
Escape from the reverse triangle
Counter/stop the double-leg stack guard passMike.Fowler-NoGi.Made.Easy.Disc.2.DVDRip.XviD-UPiNSMOKEDetails and concepts when passing guard
Catching submissions: in the transition or from a strong position
General strategies when working from the guard
Key principals and overview of Mike's half-guard game
Half-guard, underhooks and the Brabo chokes
How to maintain the mount
Methods to maintain side-control
Key elements to working open Guard in No-Gi
Additional No-Gi open guard control conceptsMike.Fowler-NoGi.Made.Easy.Disc.3.DVDRip.XviD-UPiNSMOKEMount gameplan
Mike's favorite guard attacks, flow of guard attacks: great triangle tips,
grips and more
Opening the guard of retarded strong players who just hold you in the guard
Stopping the knee-cut pass from bottom guard
Submissions from top halfguard
Mike's half-guard game from bottom: he starts from the worst case scenario, opp
has underhook, strong cross face and your flattened out.
Escapes from back when choke is in.
Submissions from inside closed guard
Mike.Fowler-NoGi.Made.Easy.Disc.4.DVDRip.XviD-UPiNSMOKEPart 1
Triangle escapes
Armbar escape from closed guard
Knee-bar escape
fully sunk rear naked choke escape
Guillotine escape from guard
Anaconda choke escape
Escape Kimura from closed guard, cross-sides
Escape straight ankle-lock
Escape omoplata and counter to submission
Escape Americana
Escapes from side-control: beautiful escape to reversal.
Escapes from mount
Escape from inverted heel hook
Counter to knee-cut pass
..more details on the knee cut pass, a sweep, body mechanics, the nuts and bolts
of understanding jiu-jitsu, dissecting moves.
Fowler's high% kimura setups from half-guard passPart 2
Defending the guard
Fail safe guard pass?:Mike explains how no move is 100% and shows pass from
closed guard
More From : Fighting